NAPLAN results bring with them confusion and misunderstandings. Learn the accurate way to comprehend the result and its meaning.
Understanding
NAPLAN Results
Uncover easy way of interpreting NAPLAN Bands
NAPLAN results bring with them confusion and misunderstandings. Learn the accurate way to comprehend the result and its meaning.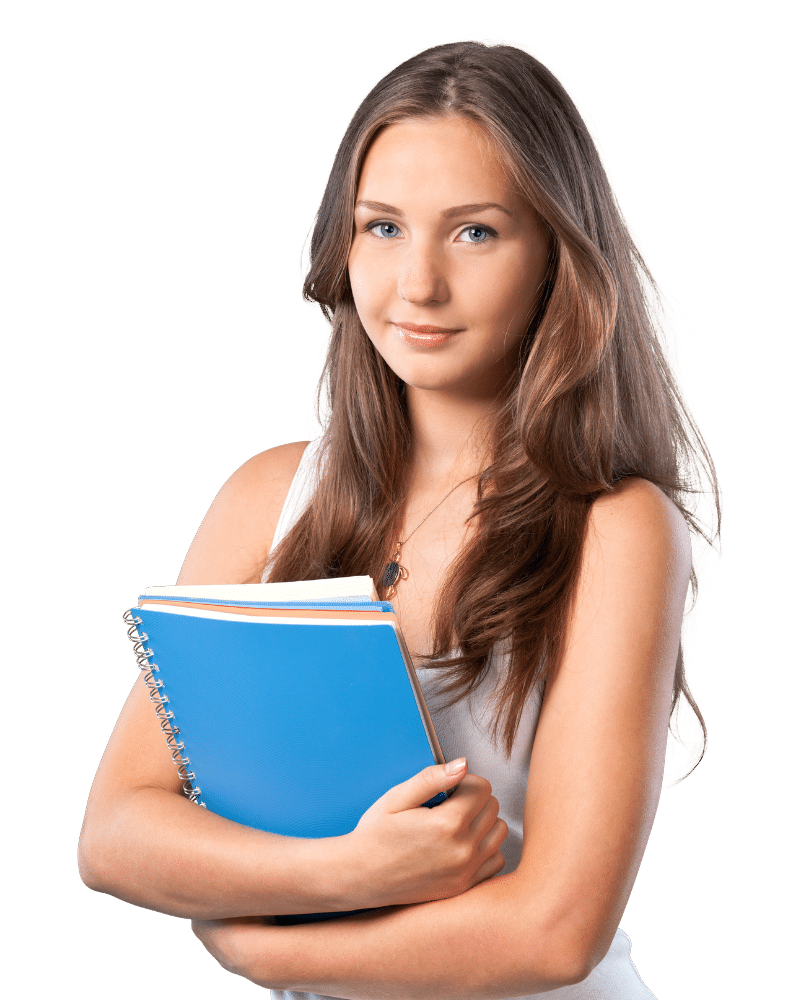 Estimated reading time: 9 minutes
What is NAPLAN? How to figure out the NAPLAN result? Will NAPLAN help your child? Find the right answers to those questions in our blog.
While we are still debating the necessity of NAPLAN, it is here to stay for now. The guide to NAPLAN blog carries an easy explanation of this standardised assessment test and its curriculum. But understanding the NAPLAN means comprehending its results as well. And, there is a lot of confusion among parents and students regarding NAPLAN results.
NAPLAN aims to give you a comprehensive view of your child's abilities when the test is attempted. Then, based on the result, parents and teachers can determine the areas where the student requires support.
What is NAPLAN?
NAPLAN stands for The National Assessment Program-Literacy and Numeracy, an annual national assessment for all students of Year 3, Year 5, Year 7 and Year 9. Students at these school levels have to attempt tests dealing with; numeracy, reading, writing, and language conventions (spelling, grammar and punctuation). "NAPLAN is used for whole-school planning. It lets us know whether we have taught things and whether children have learned them." *
*NAPLAN Reporting Review Prepared for COAG Education Council by William Louden
Understanding NAPLAN results
NAPLAN results are projected on scales that show how students have performed compared to established standards.
There are five national achievement scales: one for each of the NAPLAN assessment domains of reading, writing, spelling, grammar and punctuation, and numeracy.
Each scale has ten bands. The bands indicate the increasing evolution of skills and knowledge for Years 3 to 9 to assist in reporting the growing complexity of the knowledge and skills.
Out of the ten bands, six are used for reporting student performance at each year level.
The NAPLAN scales are calculated and shown so that any given score represents the same level of achievement over time.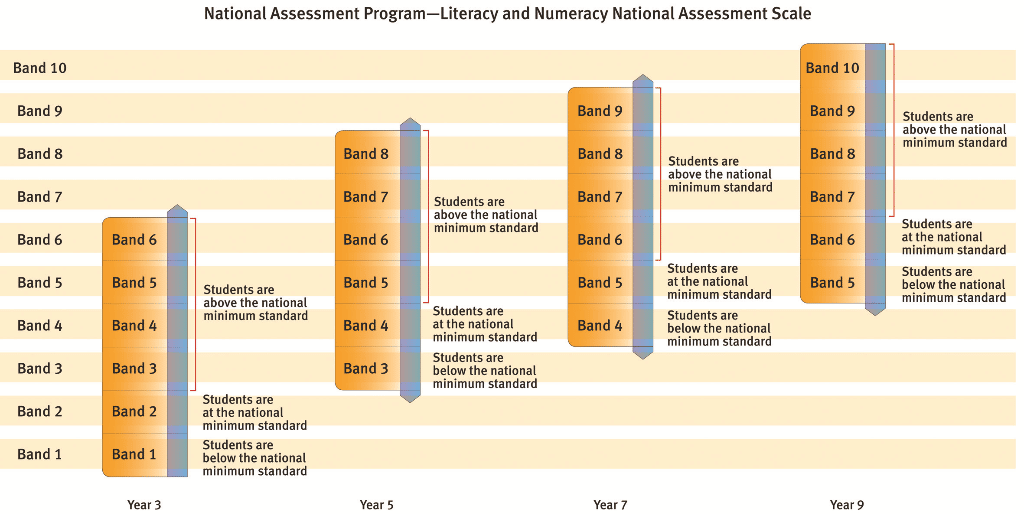 How to interpret NAPLAN results?
There is a minimum band for each Year. The minimum band for each Year is given below:
| | |
| --- | --- |
| Minimum Band | Year |
| Band 2 | Year 3 |
| Band 4 | Year 5 |
| Band 5 | Year 7 |
| Band 6 | Year 9 |
The results are shown with:
a national average
the range of middle 60 per cent of students
the national minimum standard and
your child's performance regarding all these
The second-lowest band on achievement is the national minimum standard expected of students at that year level. The national minimum standard is the minimum acceptable standard of knowledge and skills that a student requires to progress in school.
Students whose results are in the lowest band for the year level require focused intervention and support to help them achieve their skills.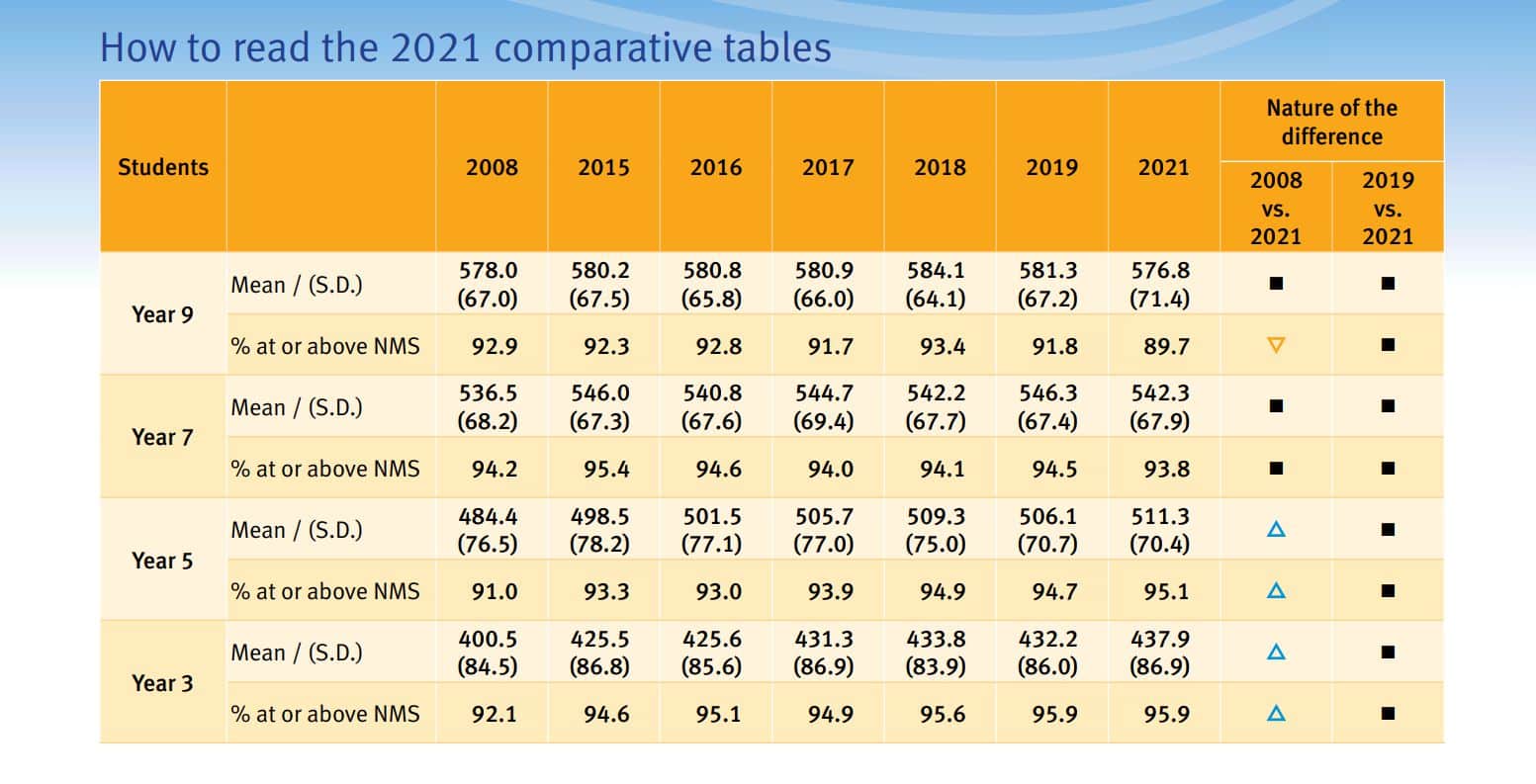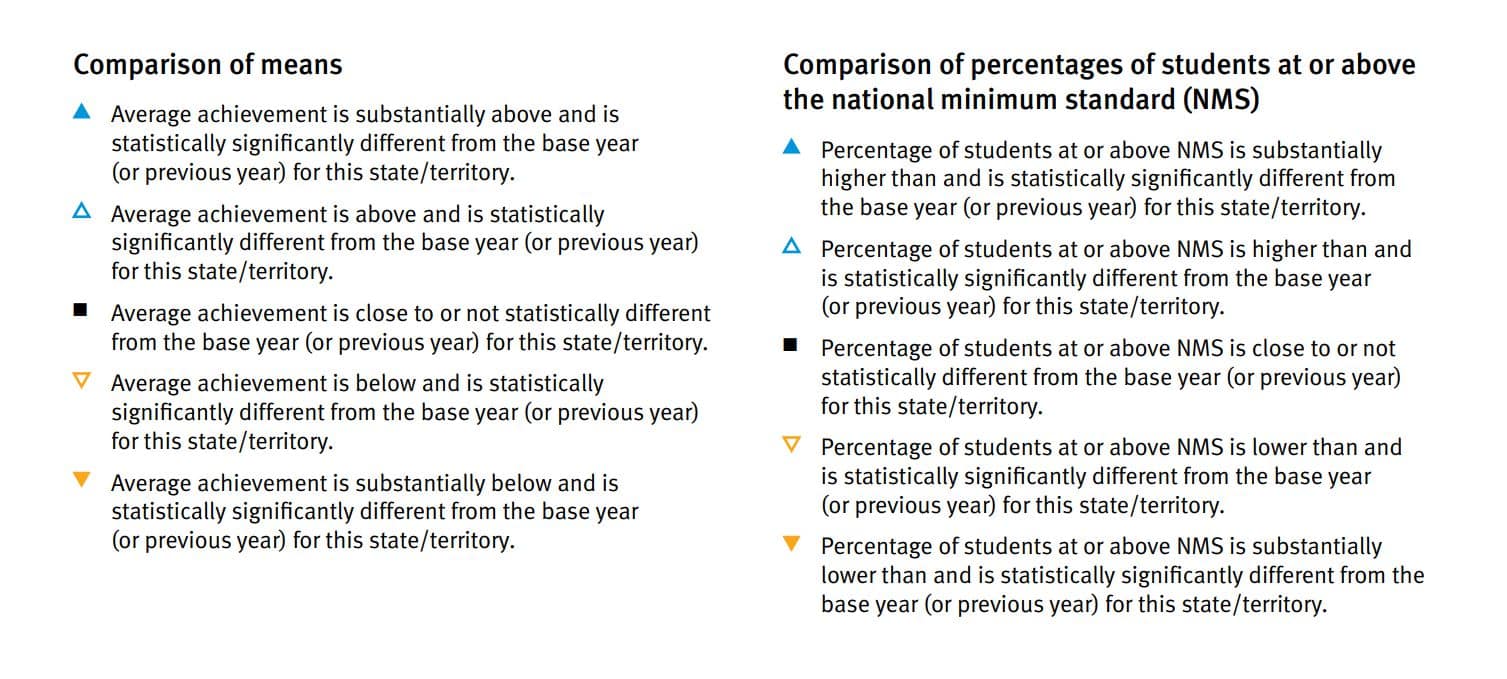 What isn't measured by NAPLAN?
NAPLAN provides a valuable insight into a student's literacy and numeracy skills. These results complement the assessments conducted by the school. But is that all there is to your child's growth and success in school?
The answer is a clear no. Creativity, curiosity, lateral thinking, emotional maturity, and persistence are some of the abilities that a few evaluation tests cannot justify. A good or below average NAPLAN result cannot be taken as your child's development benchmark.
The Australian Education Union says NAPLAN provides a "narrow and incomplete picture" of a student's education and should only be treated as a snapshot.
It is dangerous to assume that a student can be judged solely based on NAPLAN.
What is in the NAPLAN student report?
There is information about the tests on the front page explaining how to read and understand the report.
The second and third pages show the relevant part of the assessment scale in bands for that Year's level through diagrams and illustrations.
Year 3 student reports show bands 1–6. The national minimum standard is band 2.
Year 5 student reports show bands 3–8. The national minimum standard is band 4
Year 7 student reports show bands 4–9. The national minimum standard is band 5.
Year 9 student reports show bands 5–10. The national minimum standard is band 6.
A student's result in reading, writing, spelling, grammar and punctuation, and numeracy is marked on the common assessment scales. The range for the middle 60 per cent of students is shown through diagrams. Also shown are the national average result and the national minimum standard for each year level. In addition, the school average is also presented in certain states and territories.
The report's final page has a table that briefly describes what students have typically demonstrated in the tests at each band.
How does NAPLAN help your child?
Despite the misgivings, NAPLAN does come in handy for specific reasons. First, parents, teachers, and schools learn how the students are faring according to national standards. The tests evaluate for the long haul. Does the child have the necessary skills? Will the child be able to progress, without hiccups, in school? Has the child got the knowledge to enable a successful life?
As the assessment works in tandem with the school curriculum, it supplements your child's learning at school. There isn't any additional pressure to prepare for a new subject. Instead, the students are tested for their reading, writing, grammar, spelling, and numeracy for their learning progress.
With the evaluation, you know if your child requires additional support and facilitation regarding specific skills and concepts. Explore our NAPLAN Classes conducted by expert tutors.
What can I do to help my child with NAPLAN?
We get asked this question a lot, and we understand the parents' anxiety regarding NAPLAN. Therefore, we offer a few practical tips for your child to be NAPLAN ready.
Communicate with your child: explain why NAPLAN is critical and requires commitment from their end. Encourage them to talk to you about their difficulties while preparing and provide them with the necessary guidance.
Avoid over pressurising your child: NAPLAN is an assessment exam. It is not the final indicator of your child's development and learning. Putting too much pressure on the child suffering from anxiety issues and poor performance in the test.
Help them plan a schedule: as this will teach them time management. Make them divide their prep time among the different skills. Motivate them to devote more time to the skills they are not confident with.
Connect with Edulyte: our expert tutors have been trained explicitly to mentor students for NAPLAN. Each subject expert modifies the teaching methodology to suit each child's learning. Edulyte offers an effective and productive way of being ready for NAPLAN with constant sample tests and remedial measures based on the tests.
Frequently Asked Questions
Where to download NAPLAN results?
NAPLAN results will be provided to schools from August onwards, depending on your state or territory. In addition, the school notifies the parents regarding when the result will be sent to them.
How do I get individual NAPLAN results?
Test administration authorities provide the NAPLAN reports on an individual student's performance. 
NAPLAN results are reported nationally through summary results released in August and a complete national report released in December.

What is the highest NAPLAN score?
Each of the NAPLAN scales is divided into ten bands. Band 1 is the lowest, and band 10 is the highest. A band contains a range of scores. Each Year level for the student is reported against six of these bands.
You may use the equivalence table to convert your child's score on each test to its equivalent on the NAPLAN scale (NAPLAN scale score) for each domain. 
The raw score is the number of marks the student obtains on the test.

What is a good NAPLAN score?
NAPLAN isn't about scores. Instead, it is an evaluation system that measures your child's development according to common standards. The standards represent the increasing complexity of skills that are tested. This translates to the fact that each Year the child has to score higher on the NAPLAN scale. Get access to NAPLAN past papers to improve score.

What is a good NAPLAN score for Year 3?
As explained earlier, NAPLAN showcases your child's skills and knowledge level. Band 2 is the minimum standard for Year 3.
What is a good NAPLAN score for Year 5?
Band 4 is the minimum standard for Year 5. As the knowledge and skills become complex compared to Year 3, the minimum standard that your child has to achieve also goes up.
How is NAPLAN delivered in schools?
NAPLAN results are provided to schools from August to September.
All students who participated in the NAPLAN tests receive an individual report of their results

Can schools opt-out of NAPLAN?
Schools are partners in running the NAPLAN program and cannot opt-out of NAPLAN. However, individual students are allowed to opt-out of the test in some instances.
How will NAPLAN affect my child's future?
NAPLAN results allow parents and teachers to realise the progress made by the students in school. The NAPLAN supplements the other assessments carried out by the school. You can quickly determine how well your child is doing in the core skills and whether the child requires additional support. NAPLAN allows you to take timely measures to help your child reach their full potential.
How is equating related to NAPLAN?
As a statistical method, Equating is used to standardise the tests and adjust the difficulty levels of the different tests.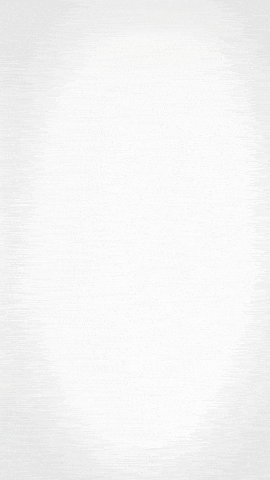 Who needs a tutor?

Estimated reading time: 14 minutes How do you write a letter? What steps do you have to follow? Are there any samples that can help…

Estimated reading time: 13 minutes Zones of Regulation has strategies that can improve your child's emotional and mental status. A framework of carefully crafted lessons…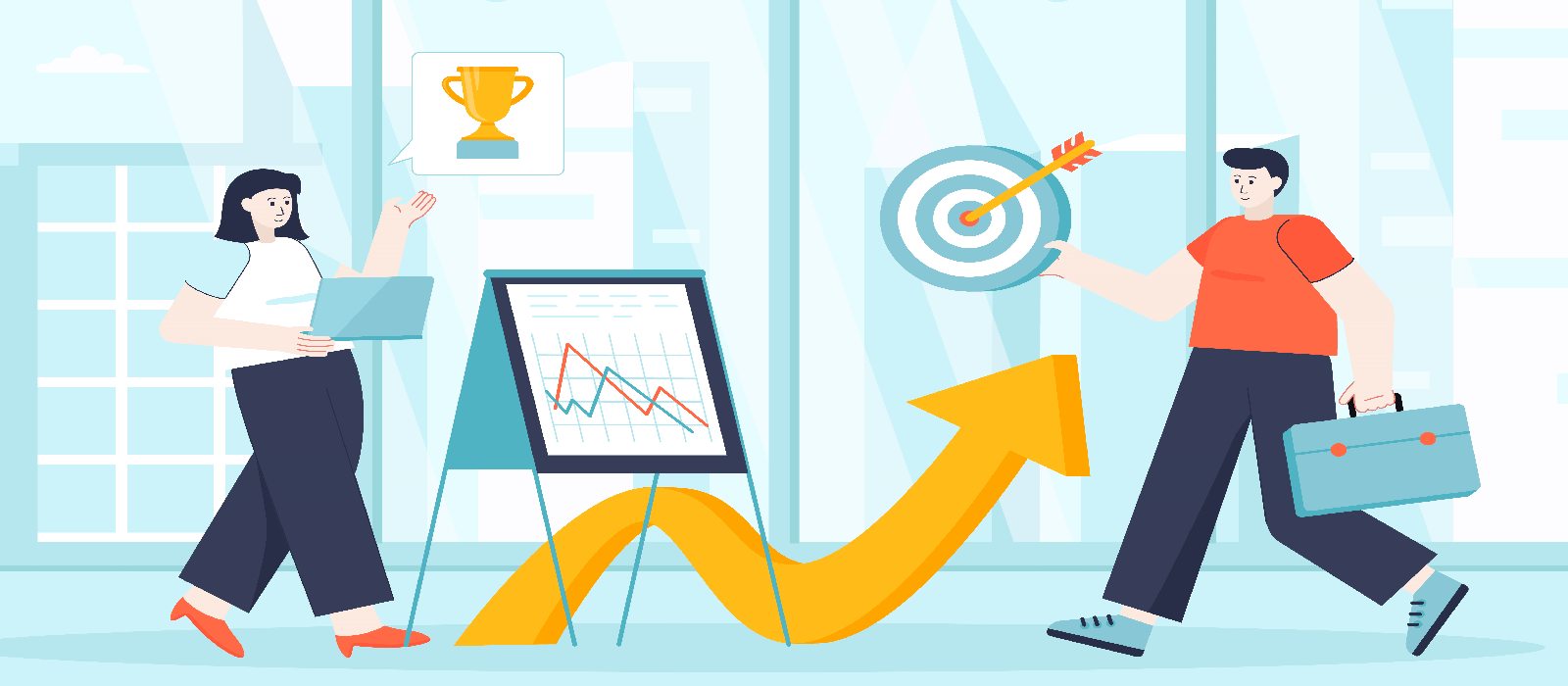 Chartered Accountancy (CA), Company Secretary (CS), and Cost Accountancy (CMA) are considered to be the 3 most renowned courses in India when it comes to…