Estimated reading time: 9 minutes
PTE exam preparation involves many aspects, and you need to be aware of all the crucial details about the PTE Academic. In fact, now you can also take the test from the comfort of your home.
Booking PTE Test: Introduction
Booking your PTE test is an essential part of your language proficiency journey. Whether you're aiming for academic pursuits or professional endeavors abroad, understanding the process is crucial. In this guide, we'll take you through the steps to secure your PTE test date.
Why should you take the PTE Academic?
The Pearson Test for English or PTE Academic is accepted as a criterion for English knowledge in English-speaking countries, for international study, work or immigration. It is accepted as proof of English language proficiency for all visa categories in countries like Australia.PTE Academic is powered by AI and is a complete computer-enabled test, and is now available as PTE Academic Online too.
Steps to book a PTE exam
You might be planning to study in a reputed university abroad or migrate to an English-speaking country for work. You will have to furnish details about your English language proficiency in any given scenario, and PTE Academic will help you do that. Moreover, it is accepted by governments and universities worldwide, making it a preferred choice among many to demonstrate their English language skills. So booking the PTE test becomes necessary for you.
Booking for the PTE exam is an online process. It means PTE booking in Sydney is carried out the same way as the PTE booking in New Delhi.
Steps for booking a PTE test are:
Go to Pearson PTE website on this link.
Search your location (type the city name and click search)
Select your desired date and time for the test centre closest to you
You will be asked to create your full profile if you do not have a myPTE login.
Complete your profile. Read the ID policy, which covers what forms of ID are acceptable to carry for the test.
Review your details and submit them.
You will receive your booking for the PTE exam notification through the registered email on the site. All the information will also be displayed on your dashboard of myPTE account. The booking of the PTE test can be made 24 hours in advance. If you don't find available slots, you might want to consider other cities nearby.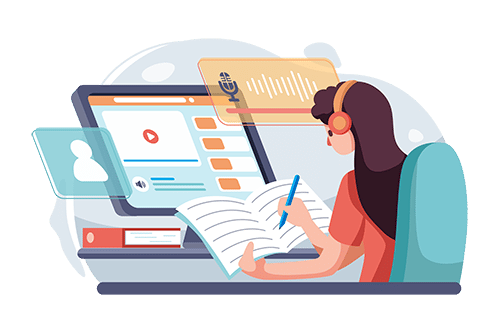 Difference between PTE Academic and PTE Academic Online
If you are busy with PTE exam preparation, then you should know that PTE Academic is a computer-based test of 2 hours and 15 minutes which will test your English language skills in the following domain: Speaking, Reading, Writing and Listening. It has three modules: Reading, Speaking and Writing, and Listening. It scores you from 10–90 on the Global Scale of English.
PTE is launching the PTE Academic Online. The online test is the same as the current PTE Academic. However, the new online proctored test is for anyone who prefers to take it remotely, like from the comfort of their own home. The format, duration and scoring patterns stay the same.
Note: Currently, the PTE Academic Online is not accepted for immigration purposes. We request you to contact the university you are applying to and check whether it accepts the PTE Academic Online result. To know more about the test, check our free blogs on PTE
Booking for the PTE Exam
PTE Academic Online is a great choice if, while booking PTE test, you realise that all the PTE centres are too far away from your location or are closed. In case there is an issue regarding your mobility, PTE Academic online is a wonderful alternative.
You should ensure that you do the following before booking the PTE Academic Online:
Check that you are eligible for the test
Confirm with the institution to which you are applying that it accepts the PTE Academic Online
Ensure you have a wired headset with an overhead band and boom microphone in good working condition
Create a disturbance-free space for taking the test
If you have gone through the checklist above, you can continue booking PTE test through this link: Book PTE Academic Online
List of Institutes accepting PTE Academic Online scores
It is important to determine whether the university you are applying to accepts the PTE Academic Online or not. We have posted a list of institutions that accept the PTE Academic Online. Please go through it here: PTE Academic Online recognising institutions
We recommend that even after finding the name of the institution on the list, you get in touch with it to cross-check its acceptance of the PTE Academic Online test results before booking PTE Test.
How does PTE Academic Online work?
The new PTE Academic Online allows you to attempt the test from your private space. You can take the test from your choice of location; your home, office or any other location.
You get to attempt the same PTE Academic Test as you would in a test centre.
The test software is easy to download and set up.
Locked browsers, identity checks and live proctors ensure the test is secure.
Your results will be available in 48 hours.
All the reasons mentioned can help you decide which test to take while booking the PTE test. More and more institutions are accepting the PTE Academic Online as they recognise that online tests are the present and the future in the examination field.
Conclusion
If you have any doubts or apprehensions about taking the PTE Academic Online, you can let them go as the test is just like the PTE Academic with the added advantage that you can take it from anywhere. Contact us if you seek more information about booking a PTE test or PTE exam preparation or wish for exceptional guidance to do well in the PTE Academic.
More PTE Blogs For You
Learning lessons, study tips, career guides and much more!

Time is an essence, and when you're sitting for the PTE (Pearson Test of English) exam, every second counts. Effective time management doesn't just decide……
Frequently Asked Questions
How do I book a PTE test?
To book your PTE exam (booking PTE test)

1. Go to pearsonpte.com
2. Select 'check availability or 'book a test.
3. Click on 'Check test availability & book' under the PTE Academic.
4. Select the test centre closest to you and click next 
5. Select the date and time. 
6. You will be asked to create a myPTE account if you do not have a myPTE login.
7. Complete your profile. Read the ID policy, which covers what forms of ID are acceptable to carry for the test.
8. Review your details and submit them. 
What is the cost of the PTE test?
The cost of PTE Academic varies from country to country. Therefore, please check the test cost in the country where you wish to attempt the examination.
Which date is available for the PTE exam?
The test dates depend on the place you reside, so check the official website to get the availability of dates for the test.
Can I book 2 PTE tests?
No, you cannot. You can book only one PTE test appointment at a time. If you want to book another appointment, you will have to reschedule the first one, move it to a later date, cancel the first appointment, and then book another available PTE test date.

How can I get 70 in PTE?
Edulyte's PTE trainers have a few tips and tricks to share with you to build your PTE Academic test prep plan.

Know your test:
There is no point in preparing for a test without a clear picture of its format. Familiarise yourself with the PTE test with its study material, its sections, and the kind of tasks each section has. One has to understand what the questions expect from the candidates.

Watch Series. Repeat Dialogues
Your listening and speaking skills depend on how well you understand the language and repeat the lines heard in tasks like Repeating sentences. So go ahead and watch that movie. Repeat the lines to improve your listening and pronunciation—stress on the intonation. You aren't wasting time in front of a screen but investing it!

Read. Then read some more.
Many attempting the test struggle with the writing tasks. To deal with it:
Read the newspapers, magazines, and articles online.
Choose a topic, and start writing.
Analyse your work.
That helps with vocabulary and grammar, the prerequisites for writing an excellent essay.

Time Matters
With time-bound tasks, it gets confusing and stressful to understand them and respond appropriately.
Best method: attempt the PTE sample papers and time yourself. Repeated practice helps you to think well and quickly. It also improves your response time. For example, in the Describe Image task, you would not be fretting about writing an essay in 20 minutes or speaking for 40 seconds. 

Different Tasks. Different Strategies
With a test that covers tasks testing your skills in various ways, you cannot have a "single window "strategy for all.

In Image Description, pick up words from the image and use them in your sentences. It will make your sentences relevant. Make sure you end your speaking task with a sentence summarising the image.
For the Retell task, pay special attention to the intonation. Absorb the keywords. It will give you the confidence to repeat without making mistakes.
In Writing Summary, ensure you take notes and write as many words as possible to fulfil the word limit requirement.
Essay writing demands that you divide it into three parts: Introduction, Body: 2 paragraphs, and Conclusion. Develop your sentences in this format. It gives you clarity and makes your essay impressive. 

Join Edulyte online PTE training classes
PTE exam preparation receives impetus with customised guidance. You might have prepared for PTE, but have you prepared well? The demanding test expects the best possible modus operandi to score 79+. And taking up online classes for PTE with experienced and innovative platforms like Edulyte gives you the best chance for success in your PTE test. 

Which part of PTE is difficult?
PTE Reading is considered the most challenging module in the PTE Academic. It is because many test takers cannot attain the level of proficiency required to attempt the test. That is why we recommend the strategies our PTE trainers swear by to score a 79+ in the PTE Academic.

How can I book a PTE test in Australia?
The process of booking the test in Australia is the same as elsewhere. We have mentioned the steps above; kindly follow them to book your PTE Academic.
How can I score 80 in PTE?
You require a comprehensive strategy, dedication and a thorough understanding of the test to achieve an 80 score. We have mentioned a few tips for you in our blog above. Drop us a message to know how we can help you achieve your dream score in PTE.

What is the cost of the PTE exam in Australia?
Currently, the PTE Academic and PTE Academic Online fee in Australia is AUD 385. We recommend you to check the test PTE fees for the current cost before booking pte test.
Can we take PTE from home?
Yes, of course, you can! PTE Academic Online has been launched to empower more people to take the test from the location of their choice.
Is PTE Academic Online the right choice for me?
Booking pte test is suitable for students intending to study in universities in English-speaking countries. PTE Academic Online is an excellent choice if all the PTE centres are too far away from your home or are closed. In case there is an issue regarding your mobility, PTE Academic online is a wonderful alternative. 

What is the duration of the PTE academic online exam?
The PTE Academic Online exam duration is the same as the PTE Academic computer-based test: 2 hours and 15 minutes.